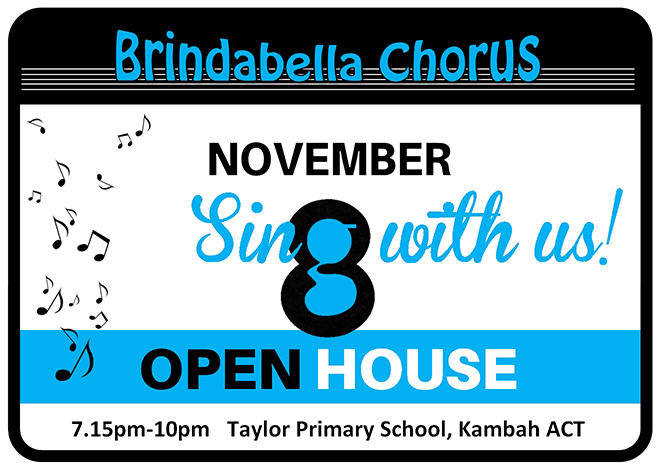 Sing With Us!
Do you love Glee or Pitch Perfect? Have you ever wanted to try singing four-part a cappella harmony? Step onto our risers and enjoy the experience of singing with Canberra's leading women's a cappella chorus.
Brindabella Chorus is the newly crowned 2018 International Champion Midsize Chorus, after winning our division in an international a cappella singing competition in Las Vegas Nevada in October. We also won the audience choice award as Most Entertaining Chorus.
You can see our award winning performance here!
This event is an opportunity for women interested in joining a singing group to check us out in our rehearsal space. So come along and see what we're all about!
Learn more about a cappella singing, find your vocal part, and enjoy a performance by the chorus. If you love music then we'll love singing with you!
Open House

When Wednesday 8th November 2017
Doors open at 7.15 pm
Venue Taylor Primary School
Marconi Cres, Kambah ACT 2902
Cost Our Open House evening is free!
What to bring? Drink bottle, comfy shoes and your best singing voice!
Bring a friend, or make a new one when you arrive
Enquiries brindabellachorus@gmail.com

Register Let us know you're coming!